Applications
Automotive Application
VCSEL for Automobile
1.DMS/OMS
Euro NCAP standards and European Commission (EC) regulation that mandates the technology from 2022, as well as the U.S. National Transportation Safety Board (NTSB) noticed recommending the use of DMS in semi-autonomous cars.
The VCSEL-supported driver/occupant monitoring systems (DMS/OMS) function as an enhanced kind of in-cabin, near-IR camera, allowing the vehicle to understand the positions, sizes, and actions of the driver and passengers. DMS/OMS is key function in Level-3 automated driving systems.
Comparing IR-LED, VCSELs based illuminator usually give a better uniformity and narrow FWHM which lead to better SNR in both 2D and 3D solution.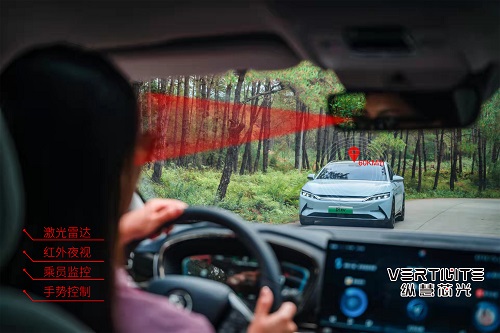 2.LiDAR
Compared with ordinary microwave radar, lidar uses laser beam. The laser diode is a very important part of the lidar, which can emit a laser beam to detect the position and velocity of the target. Its working frequency is much higher than microwave, so it gives lidar many advantages, such as high resolution, good concealment, strong anti-interference ability, excellent low-altitude detection performance, small size, and light weight. Compared with LED and EEL, VCSELs have considerable advantages in terms of performance and cost. Therefore, lidar equipped with VCSEL will show significant applications in various fields.
In the field of drones, lidar equipped with VCSELs can realize drone altitude holding, terrain simulation flying, and landing. Lidar can also give the vehicle many functions, such as forward and backward collision avoidance, automatic obstacle avoidance, and automatic driving. Lidar can assist the robot to automatically acquire the environmental information of the three-dimensional space, construct the map in a complex environment, and move autonomously in the environment. In addition, lidar can also be used for AGV collision avoidance, intelligent transportation, automatic toll booths and more.